There is no denying that the world is a busy place, especially in these unprecedented times. Innovation is not easy. Learning new things in a short amount of time is difficult and tests all physical and mental stamina. Yet, thanks to the following outstanding list of staff and volunteers, the Virtual 12th Annual Craft Lake City DIY Festival Presented By Harmons has come to life. Without this team of individuals, taking the event to the virtual world would not have been possible. Thank you for supporting our creative community.
We are builders. We are innovators. We are Craft Lake City.
Executive Director's Welcome Letter
Welcome to the Virtual 12th Annual Craft Lake City® DIY Festival® Presented by Harmons! 
Photo Credit: Jessica Bundy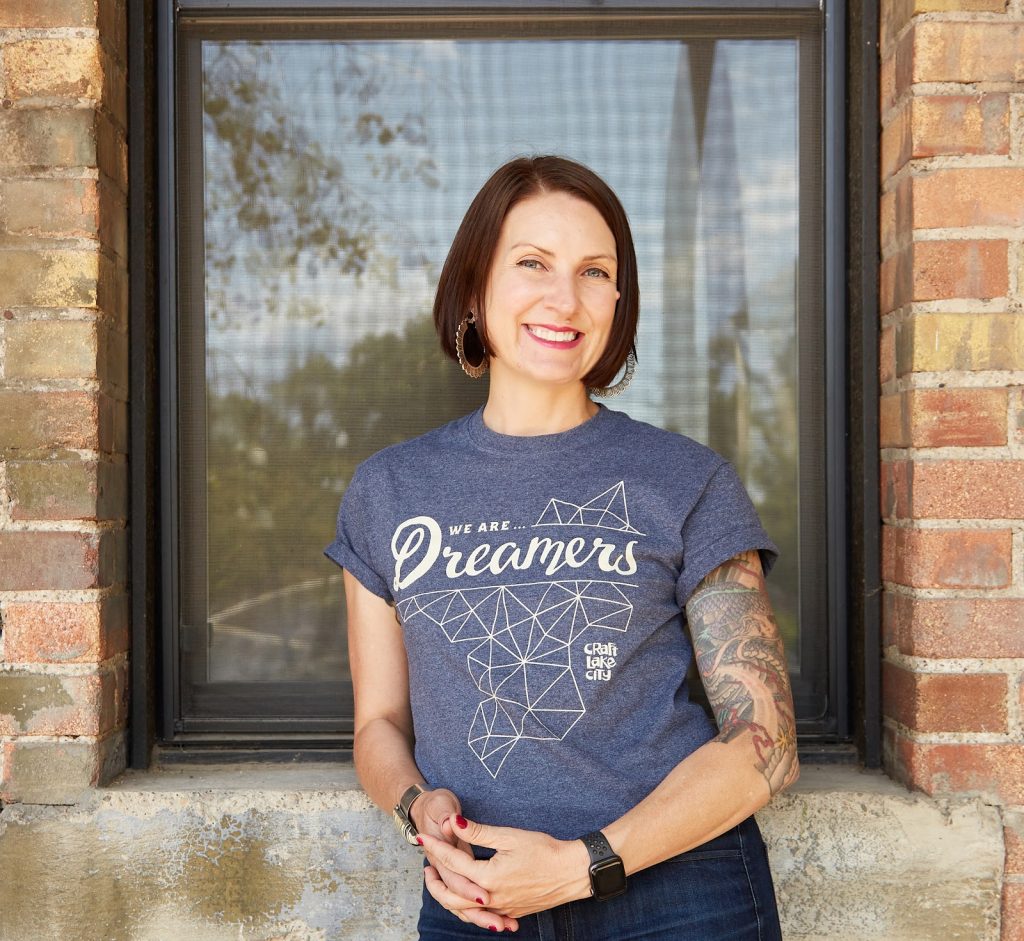 As I look back at the past 11 years of Craft Lake City, I never could have predicted that we would be switching all of our programs and events to an entirely virtual setting. I am humbled by the fact that numerous volunteers, donors, grantors, sponsors, artisans, performers and, of course, attendees continue to support Craft Lake City's vision, especially as we have transitioned to this new, innovative format.
In 2009, I launched the first Annual Craft Lake City DIY Festival as a small, but mighty, one-day event with 72 local artisans, eight local performers and four local-food purveyors. It was the first all-local event of its kind with 2,000 attendees held at the Gallivan Center in Downtown Salt Lake City. It quickly became apparent that this event could play a significant role in growing and elevating Utah's creative culture. 
From the expansion of a one-day event to a three-day DIY-filled extravaganza, our growth in science, technology, engineering and mathematics via our Google Fiber STEM building and the enhancement of our Diversity and Inclusion Scholarship programs, we continually strive to be a better organization for our community.
Each year has brought significant growth and change to the organization, and 2020 is no exception. Just as we were getting cozy in our new Annual Craft Lake City DIY Festival home at the Utah State Fairpark, COVID-19 tested our wits. However, we saw this as an opportunity to be more creative and innovative than ever before. Rather than fully canceling the DIY Festival and all of our annual programming due to the COVID-19 pandemic, we decided to take the virtual world by storm. 
We've launched a new virtual artisan workshop program complete with deliverable workshop kits that include all of the project materials to create at home. We've developed a series of free STEM Kids workshops to assist elementary educators as they convert their classrooms into digital learning environments. We've launched the Craft Lake City Academy, a series of professional development workshops designed to educate and support local makers as they build creative businesses. And most importantly, we've renvision what our Annual Craft Lake City DIY Festival could look and feel like. 
We are excited to celebrate our creative community with you this weekend! Pick an avatar or build your own and jump in one of our virtual reality galleries. We can't wait to connect with you in our new, digital DIY virtual world! 
We believe in sustaining and improving upon our growth, celebrating Utah's creative community, fostering community inclusion, supporting and elevating local makers, and inspiring folks to seek out their own avenues of creative fulfillment, appreciation or entrepreneurship.  
We hope your virtual festival experience will inspire you to believe that anything is possible with a bit of imagination, innovation and support from your community. Thank you for being a part of Craft Lake City's community support system. We would not be who we are today without you.
I look forward to seeing you all "face-to-face" inside the buildings of the Virtual DIY Festival.
We are Builders. We are Dreamers. We are Digital Pioneers. We are Craft Lake City. 
Best,
Angela H. Brown
Executive Director
Executive Director: Angela H. Brown 
Artisan and Programs Manager: Shelbey Lang 
Community Inclusion Coordinator: Amy Stocks
STEM Manager: Dr. Beth Drees PHD
Volunteer Coordinator: Tara Olson 
VIP Manager, Merch Coordinator, Digital Coordinator: Kristin Baird 
PR Coordinator: Melissa Cano 
Social Media Coordinator: Terina Ria
Craft Lake City Executive Board: Angela H. Brown, John Carlisle, Brandy Oliver
Craft Lake City Advisory Board: Amanda Stewart, Bill Hardy, Brittany Golden, Chad Dorton, Jacqeline Nealon, Jessica Thesing, Julie Bjornstad, Kristy Muir, Matthew Stevens, Nick Hoffman, Pamela Olson, Sarah Anderson, Sarah Emily Nelson.
Artisan Mentor and Scholarship Committee Chair: Jacqeline Nealon
Revenue Committee Chair: Amanda Stewart
Virtual DIY Festival Committee Chair: Sarah Emily Nelson.
Entertainment Coordinator: Bianca Velasquez
Assistant Entertainment Coordinator: Audrey Lockie
Staff Coordinator: Krystal Cardenas 
Creative/Branding/Design: Courtney Blair of Pattern Daily
Development & Survey Coordinator: Rebecca Yund
Craftlakecity.com Developer: Skyler Talbot
VirtualDIYFestival.com Developers: Carlos Duarte, Chris Manfre and Skyler Talbot
3D Animation Lead Developer: Chris Manfre
Virtual Reality Lead Developer: Greg Bayles
Virtual Reality Developer Team: Bhakti Adhikari, Carlos Duarte, Jhon Panotes, Meghna Tiwary, Shawn Hong
Artisan Mentors: Amanda Stewart, Mochi Kids; Jacqueline Whitmore, Copperhive Vintage and Sarah Anderson, City of Industry
Are you interested in joining our board? Let us know! craftlakecity@gmail.com
Volunteers: Anna Yarema, Amanda Brock, Brandy Oliver, Becky L Drees, Britney Chen, Chad Dorton, Christopher Thomas, Heather Suker, Jenn Reid, Jeremy D Dille, Jillian L Pyatte, Joelle Bleiman, John Carlisle, Kali M Hodgson, Kamaile Harris, Kat Nix, Kimberly Rosler, Lindsey Kornowske, Matt Kastellec, Max Angle, McKaida Davies, Melissa Grace Timpson, Mish McEntire, Nicholas Hoffmann, Niki Garner, Pamela M Olson, Pert Eilers, Rachel Manko, Rachel R Becker, Ramon Toledo, Sarah Nelson, Sidnie Anderson, Steve Sutton 
Interested in Joining Our Team of Year-Round Volunteers? 
Craft Lake City is a 501(c)(3) charitable organization. Please consider making a tax-deductible charitable donation today!
E-mail info@craftlakecity.com or call 801.906.8521
craftlakecity.com | @craftlakecity
#clcDIYfest #craftlakecity