Welcome Festival Attendees & VIPs!
We thank you for joining us for the Virtual 12th Annual Craft Lake City® DIY Festival Presented By Harmons! 
Powered by Mozilla Hub
Official Virtual DIY Festival Hours:
Fri., Aug. 7, 6p.m.-10p.m.
Sat., Aug. 8, 9a.m.-1p.m.,
Kid Row 1p.m.-3p.m.
Sun., Aug. 9, 2020 3p.m.-7p.m.
FREE General Admission!
Guidance
To help you navigate the Virtual DIY Festival, we've prepared a quick guide to get you going. Click on a specific area of interest below to jump to that section, or take your time scrolling through all the tips & tricks.
How does it work?
Check out this video for a sneak peek at an interactive gallery. Attendees will be able to create their own avatar and "walk the aisles" of the Virtual DIY Festival. Within this gateway, participants can browse product galleries, chat directly with other avatars (including artisans and STEM exhibitors) and maintain the festive feeling of being at a Craft Lake City in-person event.
There will also be a more straightforward online shopping experience so you can enjoy the festival regardless of your level of tech-comfortability.
Tips & Trips for Navigating the Virtual World
Going virtual is new for most of us! We've compiled tips and tricks to support you while you slip into your new digital avatar and dive into the brave new virtual world of the VIRTUAL Craft Lake CIty DIY Festival!
Simply click on the topic below and you'll be well on your way to becoming a virtual reality pro!
What device should I use to access the Virtual DIY Festival?
While Hubs is cross-platform compatible, we suggest that for optimal performance attendees use a laptop, desktop or VR Device, if possible. Tablet and mobile phone-use may present challenges in the VR-world; however, there are direct shopping options for each exhibitor that will allow you to browse no matter which device you choose.
Some of the challenges we have encountered in testing on mobile and tablet devices include, but are not limited to, unsupported links, unsupported internet browsers, sound issues (we recommend using headphones) and the inability to navigate freely from one VR hub or gallery to another. Craft Lake CIty's testing has found that Google Pixel smartphones seem to work best on this platform.
Mozilla mentions, "Note that some features may be limited on low-powered devices such as mobile phones."
Which web browsers are supported?
Mozilla states,  "Hubs works on most modern desktop browsers on Windows, Mac, and Linux. It also works on most mobile browsers for Android, and Safari on iOS."
Hubs require specific features that aren't supported by all browsers. Currently, Hubs works best on Chrome, but is also supported on the following browsers:
Platform
Browsers

Windows

Firefox,

Chrome

, Edge (version 79+)

Mac OS

Ideal performance in

Chrome

and Firefox. Safari is not suggested. 

Linux

Firefox

Android

Firefox,

Chrome

iOS

Safari (Craft Lake City DOES NOT recommend using on desktop computers)

Standalone VR

Oculus Browser, Firefox Reality
Do I need to create an account to participate in the VR experience?
To save time and avoid having to re-select an avatar each time you enter a new gallery, we advise creating a Hubs by Mozilla account. (However, it is not a requirement to enter.)
All you need is an active email to sign up. Once you've created an account, you can select and save your avatar and name. Not only will this eliminate having to create a new avatar each time you enter a different gallery, but you can also save rooms. If you find an artisan gallery you just love, or discover an item but want to think about it before purchasing, you can save the gallery directly to your profile. Click this link to create your account!
How do I enter a Virtual Gallery?
Entering a gallery can be a bit different for each attendee, depending on the type of device you are using.
On a desktop computer, mobile device or tablet?
Click "Enter Room" and follow the prompts to select a name/avatar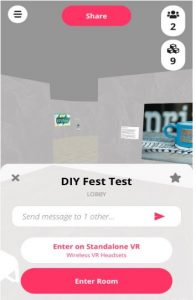 On a VR headset?
Choose "Enter on Standalone VR" to create a code that makes it easy to open on your standalone headset (i.e. Oculus Quest, Oculus Go, Samsung Gear).
Open the browser in your VR headset, navigate to hubs.link and enter the code.
Take a look at the instructions in the Hubs documentation for additional setup information.
On a Wired-in VR Headset?
On your computer, click "Enter Room" and follow the prompts to select a username/avatar and set up the mic. On the final prompt before entering you should see an option to select Connected VR Headset
For additional information on VR navigation, visit https://hubs.mozilla.com/docs/hubs-controls.html
How do I select an avatar?
Once you've entered a room, you will be prompted to the next step of selecting your avatar. If you've created a Hubs account, you will be able to save your avatar, which means when you enter other galleries, you will not be required to select a new avatar each time. There are several options to choose from; make sure to pick one that represents you virtually!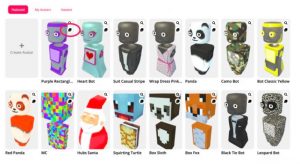 Next, add your name.
Make sure to change the name of the avatar in the space above the avatar! We want to make sure that participants know who you are, so please add
your name to your avatar!
Want to try out a different avatar?
You can change from your current avatar to a new one at any time by clicking the dropdown menu in the top, left-hand corner and selecting 'Set Name and Avatar.' From there, you can browse and select a different avatar.
How do I move around once inside the galleries?
First, take a look around. Navigation hints will appear at the bottom of the screen when you enter a gallery. They do disappear quickly, so just remember WASD.
On a desktop/laptop, use your WASD or arrow keys to move around. You can also press your right mouse button to teleport to a different location. Rotate your view using the Q and E keys, or hold down your left mouse button and drag.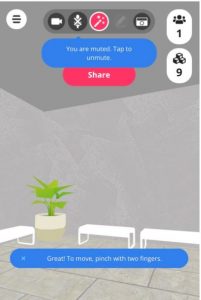 On a smartphone or tablet?
To move, just PINCH with two fingers to move around the gallery. Use a single-finger drag to rotate in the room.
Tap the microphone button on the top of the screen to mute/unmute yourself.
A full list of navigation controls is located below.
Also, try practicing in our Navigation Training Hub, here!
How can I determine Craft Lake City Exhibitors, Staff or Volunteers while in the Virtual Galleries?
Once you are inside the virtual reality festival buildings, you'll be able to locate festival artisans, STEM exhibitors, and Craft Lake City volunteers by their specific Craft Lake City avatars. VIP, Staff, and Artisan Scholars will also have their own avatars.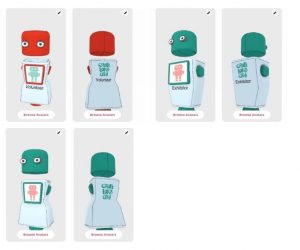 The audio sounds choppy, how can I fix this?
Choppy sounding audio could indicate that your device and/or network is having trouble with the complexity of the room. This could be because of the complexity of objects in the scene, or the number of other room members present. If you are on a mobile phone, you may find audio quality and performance improves if you enter the room from a more powerful device, such as a computer. In general, mobile devices (phones, standalone headsets) may have performance challenges when there are more than 10 people in an individual room. Craft Lake City recommends using headphones with your device for the best audible experience.
The audio isn't choppy, but I am still having audio issues, what should I do?
Mozilla uses conditional sound. This means that the closer you are to an object producing sound (video, avatar, etc.) the louder the volume will become. If you are having a hard time hearing an exhibitor, please be aware that you need to move your avatar as close as possible to their avatar for optimal audio. Wear headphones and make sure to unmute yourself to talk to others! (See graphic below for location of mute button.)
Other audio issues may be caused by the removal of either a headset or earphones while in and before exiting a gallery room. This can affect your mic while also causing you to lose audio. If you do need to remove your headset/earphones at any time while in a gallery, just refresh your browser or exit and reenter the room to prevent audio loss.
It sounds like there is an echo in the room, is there a way to fix this?
An echo may occur if a participant is not wearing headphones. Please make sure to mute your microphone when you are not speaking to minimize any echos. It is also helpful to close all other programs to prevent outside audio from entering the gallery room.
To mute/unmute, click the microphone icon located in the toolbar at the top of the screen or type "M" if on a computer.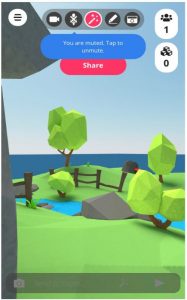 How can I fix my microphone if it's not working properly?
If no sound is being picked up by your voice, check that your microphone is properly plugged-in and that you selected the correct microphone in the browser permissions. If it is still not working, you may need to look in the privacy and security settings on your computer to ensure that microphone permissions are not being blocked. If it still does not work, try entering the DIY Festival in another browser. Again, Hubs works best in Firefox and Chrome.
Which VR Devices are supported?
For Desktop VR (Oculus Rift, Windows Mixed Reality, or HTC Vive), Hubs works when used with a WebVR compatible browser (e.g. Firefox). Users must also have either Oculus Desktop App (Oculus rift), or SteamVR installed (Windows Mixed Reality, HTC Vive).
For Standalone VR devices (Pico Neo 2, Oculus Quest and Oculus Go), use the Mozilla Firefox Reality Browser or the Oculus Browser.
Mobile phone powered VR systems, such as Samsung Gear and Google Cardboard, work using Google Chrome browser.
Is it possible to go from one Virtual Gallery to another?
Yes! We want you to go to as many galleries as possible! Due to browser limitations, you will need to exit out from one Hubs virtual gallery room in order to enter a new one unless you open up a new "incognito" tab in your browser. 
 When you open the new Hubs virtual gallery, you will have to go through the "enter room" process again of selecting an avatar and joining the room unless you are signed in to your free Mozilla account. 
To save time and avoid having to re-select an avatar each time you enter a new gallery, we advise creating a Hubs by Mozilla account.  CLC recommends doing this.
How can I go directly to an exhibitor's profile?
In order to directly access an exhibitor's profile without entering a virtual gallery, simply click on the virtual building you are wishing to explore. Rather than clicking the button toward the upper right of the screen to enter the virtual gallery, scroll down to the bottom half of the page. You'll see tiles of the artisans in alphabetical order. Click through the pages to view different artisans, visit their profiles and have fun supporting local makers!
How do I exit the galleries?
For other troubleshooting tips, visit the Mozilla Hub page here. 
If you are experiencing problems during the Virtual DIY Festival and would like help, call Craft Lake City 801.906.8521 or email us at support@craftlakecity.com. We look forward to serving you to the best of our ability!