ABOUT
The Annual Craft Lake City DIY Festival is Utah's largest local-centric arts festival. For the first time, this year's DIY Festival is going virtual in order to provide a fun, interactive and safe experience for all attendees and creatives. The DIY Festival features more than 250 local artisans, DIY engineers, vintage vendors, performers and craft food creators. The Virtual 12th Annual Craft Lake City DIY Festival Presented By Harmons will be taking place August 7-9, 2020 on virtualdiyfestival.com.
For this year's Virtual DIY Festival, 153 Artisans, 8 craft food, 16 STEM, 47 performers, 4 festival food and 14 Kid Row exhibitors will be participating.
The purpose of the Annual Craft Lake City DIY Festival is to support and elevate local artisans, entrepreneurs, small business owners, craft food creators, innovators and DIY engineers alike, no matter their socioeconomic status, while also inspiring attendees to become makers themselves as well as supportive patrons of the local DIY community and creative economy.
Artisans, Kid Row participants and STEM exhibitors will showcase their products in virtual galleries and engage directly with attendees through an interactive digital platform.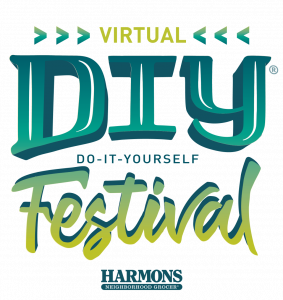 Performers will participate in a Virtual Music Showcase featuring a live feed of local performances over the course of the weekend.
Festival Food exhibitors will be featured in our virtual Festival Food Truck through virtual galleries, mouthwatering videos and information about where you can find them in the valley.
The Google Fiber STEM Building will feature local tinkerers, tech startups, nonprofit organizations and educational institutions. Exhibitors will be providing festival attendees a unique opportunity to learn about STEM projects happening in Utah. Festival-goers can have their curiosity satisfied by stopping by the virtual building and engaging with local experts in a range of science, math, technology and engineering topics. In addition, the Google Fiber Virtual STEM Building will feature interactive live demonstrations, presented by STEM exhibitors in their virtual gallery during "live" festival hours.
Craft Lake City's Kid Row is a program designed specifically for young makers (ages 14 and under) to grow as creative entrepreneurs at the Annual Craft Lake City DIY Festival, Utah's largest local-centric arts festival. Kid Row is typically held in-person at the Utah State Fairpark, but this year Craft Lake City is prioritizing the safety and success of local makers by pioneering a new VIRTUAL Kid Row experience on Saturday, August 8 from 1 p.m. – 3 p.m. Kid Row artisans will showcase their products in a virtual gallery and (with their parents or guardians always present) engage with atte
For attendees who would prefer a more traditional online shopping experience, Craft Lake City will have an exhibitor profile on our website for each participating creative, complete with a preview of their products and a link to their store.
Utah is home to a unique assortment of communities that represent people from many cultures, ethnicities and socio-economic groups; of varying abilities, gender identities and sexual orientations. Craft Lake City is committed to providing opportunities for people within all Utah communities to experience and connect with Utah's rich crafting history, current DIY movement and creative future.
Craft Lake City is a 501 ©(3) charitable organization. Our mission is to educate, promote and inspire local artisans while elevating the creative culture of the Utah arts community through science, technology and art. We execute our mission through year round programming such as workshops, exhibits, curation, entrepreneurship education and our Annual Craft Lake City DIY Festival.
Like many 501(c)3 nonprofit organizations, Craft Lake City has been impacted by the covid-19 pandemic. We are committed to presenting an incredible virtual DIY Festival, but this requires the community's support to make it happen. Please consider becoming a Sustaining Member of the organization or making a one-time donation. Financial contributions help us accomplish goals related to our nonprofit mission—especially in these difficult times.
The Virtual 12th Annual Craft Lake City DIY Festival is presented by Harmons and sponsored by 90.9 FM KRCL, Big Cartel, Dominion Energy, Google Fiber, Huge Brands, SLUG Magazine and Xmission. The Virtual DIY Festival is supported in part by the residents of Salt Lake County through the Zoo, Arts & Parks (ZAP) Program, the Salt Lake City Arts Council, George S. and Dolores Doré Eccles Foundation, the Lawrence T. & Janet T. Dee Foundation, The Jack and Dorothy Byrne Foundation, the Stephen G. & Susan E. Denkers Family Foundation, and Utah Arts & Museums, with funding from the State of Utah and the National Endowment for the Arts. The DIY Festival Inclusion Program is supported in part by the Salt Lake City Mayor's Office.